Custom-Built for Your Brand
We connect you with influencers who authentically represent your brand to make sure you're engaging your highest-value audiences at each step of the buyer's journey.
Four Steps to Influencer Success…

We help you identify and partner with trusted influencers with loyal audiences.

We work with influencers to produce, test, and optimize high-quality content that's aligned with your brand.

We help you build, negotiate, and create long-lasting influencer relationships to match your brand's needs

We'll help you turn your influencer efforts into lasting communities with that facilitate profitable engagement.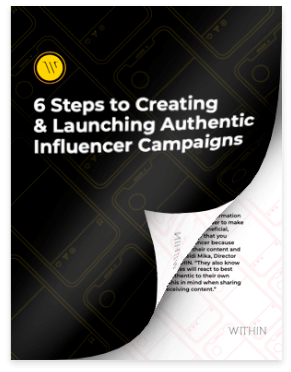 Download Your Influencer Marketing eBook
In this eBook, we'll walk you through the ins and outs of creating a successful influencer campaign. Plus, we'll give you insider tips to boost reach and engagement with your influencer programs.
Grow Your Influencer Program From WITHIN
Playboy set out to prove that its iconic Bunny costume is meant for every bunny while boosting brand awareness with its Halloween influencer campaign.
INNOVO wanted to increase its customer base and drive trackable conversions with an influencer brand awareness activation campaign.
Q: What is influencer marketing for brands?
A: Influencer marketing is a mutual partnership between brands and creators who share a goal of telling compelling stories with authentic content. Brands should work with advocates for their products and have a strong network of consumers who value the influencer's advice and recommendations.
Q: Why is a strong influencer program essential for brands?
A: Influencer Marketing Hub reported that influencer marketing is set to grow to approximately $16.4 Billion in 2022. Influencer marketing isn't going away, so take advantage of the opportunities it can provide your brand.
Q: Do I need to work with a celebrity?
A: Nope! While influencer marketing began with household names and A-list celebrities, today's audiences crave authenticity and personal connection. Influencers are relatable "regular people" who represent and interact with your brand and products authentically. Their followers look to them for unique content, product recommendations, and access to a like-minded community.
Q: Can influencer campaigns be part of larger campaigns?
A: Absolutely! It's generally more successful to run a cross-channel influencer campaign to get the most out of these partnerships.
Q: How are the results of influencer campaigns measured?
A: The success of a campaign is usually based on your goals, using metrics including impressions, engagements, total media value, and total pieces of content generated.
Q. Is influencer marketing affordable for smaller brands?
A: Yep! Influencer marketing is a cost-effective solution that can bring greater returns than other digital marketing strategies. It's been becoming a preferred method for marketing new product launches.
Q: Where do I find influencers who are a good fit for my brand?
A: You have two choices: do it in-house or hire a third-party agency to handle the details for you. There are pros and cons for both, but most brands choose to go with an agency that can identify and connect well-matched influencers through robust database access. An agency can also be more time-efficient and can ensure your influencer marketing initiatives align across channels.
Q. What other opportunities does Influencer Marketing offer?
A. Test messaging and content through unique voices in different spaces and platforms; add touchpoint options via mediums like email, SMS, and social media for more chances to connect with customers.