At WITHIN, we help you gain an intimate understanding of how customers interact with your brand and help you execute a measurable, profitable, owned channel strategy.
Four Steps to Lifecycle Success…
We start by auditing your existing lifecycle programs and doing a deep dive into previous campaigns.
We build a strategy based on lifecycle best practices, help define your campaign KPIs, identify your target audience, and more.
3. Create Compelling Content
We help you compile and generate on-brand content that converts on email, SMS, and more.
4. Schedule, Automate, and Test
We maximize the relevance of your content by building, automating, and testing sequences for high LTV segments.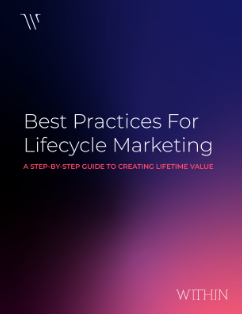 Get Your
Lifecycle eBook:
Best Practices For
Lifecycle Marketing
In this eBook, you'll learn how to build a Lifecycle Marketing program step-by-step, plus insider tips on how you can bring your program to the next level.
PacSun wanted to increase both email and SMS revenue contributions. PacSun wanted these improvements to coincide with their launch of website updates and a new loyalty program.
INCREASE IN OVERALL
LIFECYCLE REVENUE
Corkcicle wanted to drive more engagement and cultivate measurable improvements in customer relationships. Corkcicle turned to WITHIN's lifecycle team for expert insights and execution of its email campaigns.
INCREASE IN REVENUE PER SEND
Q: What is lifecycle marketing?
A: Lifecycle marketing is an owned media channel that maximizes the LTV of existing leads and customers by engaging them on a variety of channels.
Q: What channels does lifecycle marketing include?
A: Lifecycle marketing uses owned media channels, like email, SMS, push notifications, direct mail, websites, etc.
Q: Why is a strong lifecycle marketing program essential for brands?
A: Lifecycle marketing leverages owned media channels with existing customers that cost almost nothing to use. Additionally, these channels offer extensive methods for tracking important metrics, like CVR, ROI, and LTV.
Q: Isn't lifecycle marketing just about emails?
A: Using email marketing in a lifecycle program is common amongst brands and can be an effective way to retain and nurture customers. However, it isn't the only channel brands can choose to use.
Q: Will lifecycle marketing hurt my company's profitability?
A: Not at all! An investment in lifecycle marketing is one of the most cost-effective, profitable marketing channels in existence. This is due to the fact that there is a relatively low fixed cost associated with owned media channels.
Q: Is there a way to measure the incremental returns of lifecycle campaigns?
A: Almost every lifecycle marketing channel, from email to SMS to direct mail, has extensive, first-party measurement capabilities. With lifecycle marketing, you OWN the data.
Q: Will lifecycle marketing hurt my brand's reputation?
A: Not a chance. Lifecycle marketing is an incredible way to build trust, credibility, authority, and authentic methods of communication with your target audience. In fact, the absence of a lifecycle marketing program can be damaging to your brand equity.
Q: What are the benefits of lifecycle marketing?
A: There are a ton of lifecycle marketing benefits but some of the benefits with the most impact include: engaging new, existing, and lapsed customers with limitless segmentation capabilities, first-party data, and attribution, and building long-lasting customer relationships that lead to a higher lifetime value (LTV) without additional customer acquisition costs (CAC).
Grow Your Lifecycle Program From WITHIN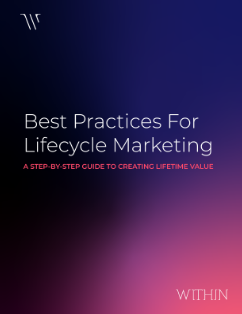 Download Your
Lifecycle eBook:
Best Practices For
Lifecycle Marketing