Aligning your Business Objectives to your Marketing Program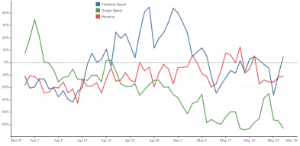 Get industry insights and news
directly to your inbox.
Creates Long-Term Profitability
MEET YOUR CUSTOMERS
WHERE THEY SHOP
Pinpoint the "who" and "where" to get your content seen by the right eyes on the right channels.
of millennial shoppers say that a brand's social media presence influences their decision to buy.
PERSONALIZE CONTENT,
BOOST SALES
Engage your customers with creative that resonates at the right stages of their buyer journey.
of consumers will only interact with marketing messages that are tailored to their particular interests.
NURTURE RELATIONSHIPS
AND BUILD LOYALTY
Predict the Life-Time Value (LTV) of a customer to cater directly to their needs, increasing customer loyalty.
increase in LTV through strategic audience segmentation for online pet food company.
USE DATA TO STRETCH DOLLARS
Simply put, data helps marketers maximize the impact of their dollars and improve the consumer experience.
increase in incremental ROAS for Casper's Google Brand Search campaigns.
Aligning Your Marketing Program From WITHIN