Pushing Quality Partnerships to the Next Level
At WITHIN, we build and optimize affiliate programs at unmatched speeds to help you grow a high-LTV customer base and get incremental revenue from every click.
Four Steps to Affiliate Success…
We'll audit your existing affiliate program to give you the most value for your investment.
We help you find and onboard affiliate publishers that are aligned with your brand so you maximize profitability.
Cross-Channel Capabilities
We'll integrate your affiliate program with existing channels to sync budget and performance.
We'll grow your program with behavior-based marketing performance data.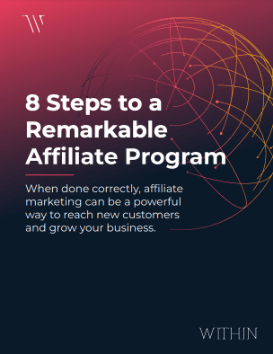 Download Your
Affiliate eBook:
8 Steps to a Remarkable
Affiliate Program
In this eBook, we'll give you a step-by-step guide to bringing your affiliate program to life. Plus, we'll give you insider tips to bring your program to the next level.
Grow Your Affiliate Program From WITHIN
Playboy wanted to boost the profitability of its affiliate program by increasing average order value, without compromising on customer quality.
INCREASE IN AVERAGE
ORDER VALUE
Corkcicle knew there was much more affiliate revenue and customer acquisition potential but it needed help to unlock program capabilities.
Q: What is affiliate marketing for brands?
A: Affiliate marketing is a performance-based marketing channel that helps drive purchasing decisions without upfront advertising costs.
Q: Why is a strong affiliate program essential for brands?
A: Put simply, your brand is missing out on potential sales and customers without an affiliate program.
Q: Isn't affiliate just about discounts and coupons?
A: Running coupons with affiliates is a popular brand tactic, but it's not the be-all-end-all of affiliate marketing. There are a number of other levers, including cashback and custom editorial content, which have proven to drive significant revenue.
Q: Will affiliate marketing hurt my company's profitability?
A: Affiliate is a pay-for-performance channel, so there's a potential for a low CPA with high ROAS depending on budget and execution.
Q: Is there a way to measure the incremental returns of affiliate?
A: Affiliate can be an incredible driver of incremental returns. We work with top network partners like Rakuten and impact.com to provide analytics that fit your brand's needs.
Q: Will affiliate marketing hurt my brand's reputation?
A: The internet is littered with low-quality affiliate links. But this doesn't define affiliate as a whole. We'll pick the best-of-the-best partner mix for your brand to ensure partnerships do not dilute brand reputation.
Q: What are the benefits of affiliate marketing?
A: Too many to list! But if we had to pick a few, they'd be: increased AOV, new-to-file customers, low-risk conversions with high ROAS potential, opportunities for low-cost, high leverage publisher content, generation of data-points for tracking, and potential to integrate across channels.
Grow Your Affiliate
Program From WITHIN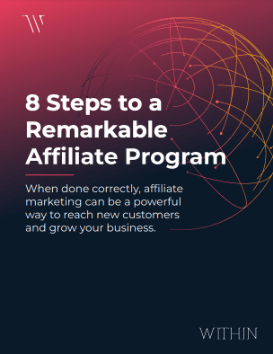 Download Your Affiliate eBook:
8 Steps to a Remarkable
Affiliate Program